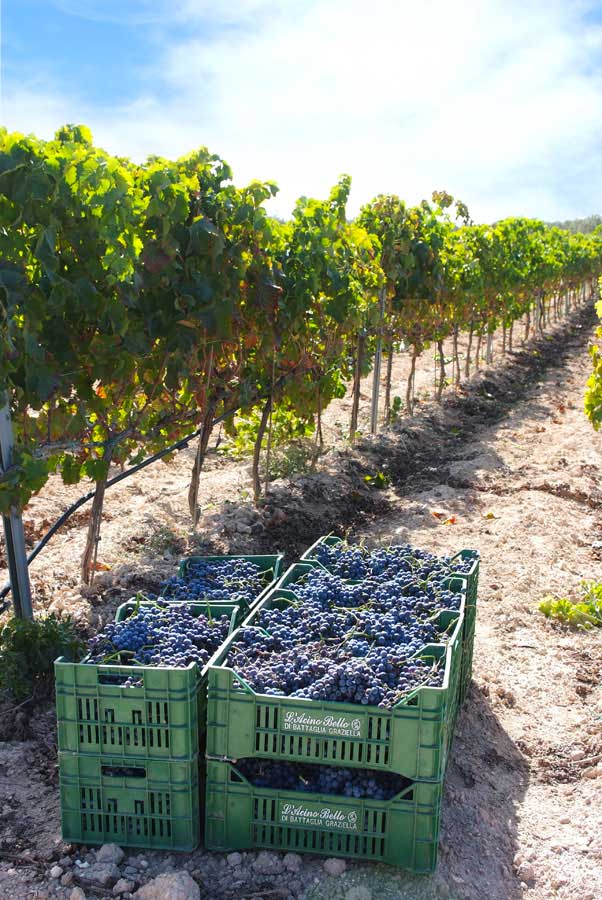 The Gurrieri family produces wine, because they share a passion for great wines. That passion resulted in the idea of founding a family business, the Graziella Battaglia farm. Their love forvineyards has led to the production of D.O.C.G, D.O.C and I.G.T wines from autochthonous Sicilian grapes of Ragusa area. The wines have been appreciated in the international scenario. An example is the IGT Sicilia Frappato red wine, which was awarded a silver medal at IWSC 2011. Having avoided conventional farming systems to follow those of organic vine growing, the family aims at producing bunches of grapes and wines, which can express the quality and character of the vineyard in complete harmony with nature.
Gurrieri wines tell the story and the beauty of an uncontaminated nature of the Hybleaen Mountains, in the southeast of Sicily. Their downward slopes, characterised by clayey, shimmering ground, are embroidered by vineyard rows, whose colour graduations give the traveller a paradisiac view. Such wines are the result of a careful selection of grapes from our vineyard, which are harvested by hand to afford more precise selection, and carried in small baskets to tend to do a better job of protecting the grape's juice content from oxidation due to damaged skins. They are treaded softly and made into wine after a long maceration of the must together with the skins (not for the white wine) by means of thermoregulatory mechanisms. After the malolactic fermentation, the wine is decanted in wine casks or bottled. The bottling helps refine the wine and it is necessary to express to the best its characteristics, while ageing enhances its qualities. It is usually put on the market one year after the grape harvest. Our farm grows the finest, autochthonous grape varieties and produces I.G.T Nero d'Avola, I.G.T. Frappato wines in their purity, D.O.C Vittoria red wine, D.O.C.G. Cerasuolo di Vittoria wine and a white wine, Il Bianco Donna Grazia.
Nero D'Avola red grapes , also called Calabrese, are a very old Sicilian grape variety. It has always been grown on hillsides of the Hyblaean Mountains in the province of Ragusa. The second name attributed to it, that is to say Calabrese, is nothing but an Italiani-zation of a word in Sicilian dialect, Calaurisi, which is composed of two words, cala (a Sicilian word to refer to grapes) and aurisi (a Sicilian word which stands for the Italian Avolese and it means from Avola).
Frappato red grapes produce a light bodied wine with a distinct grapey aroma. Vineplants are disbudded in order to have sweet and superfine tannins. In its purity, the wine is fragrant, fresh, with intense notes of bilberry, blackberry and raspberry. The palate impression is bright, fresh and persistent, with small black and red fruits coating the mouth at the same time. It is seen as a precious component of Sicily's DOCG wine, Cerasuolo di Vittoria, DOC Vittoria red wine and Donna Grazia Il Bianco white wine.
Cerasuolo di Vittoria red wine is the very first and only DOCG wine in Sicily. Of ancient tradition, It brings together two of Sicily's most significant autochthonous varieties of grapes, Nero d'Avola and Frappato. Gurrieri vineyards, cultivated in accordance with traditional agricultural techniques, which were improved with the passing of centuries, to face a scorching climate without having recourse to irrigation, can provide a great variety of red wines that are excellent candidate for delight the palate.